Understanding how to manipulate, deploy and leverage Apache Spark is quickly is essential for businesses steeped in "big data." It's apparent that learning Apache Spark should be a priority for developers all over the world.
This is a book summary of Learning Spark: Lightning-Fast Big Data Analysis from O'Reilly Media, Inc. This summary will help you become more confident and productive in Apache Spark quickly. Apache Spark core fundamentals and ecosystem presented succinctly.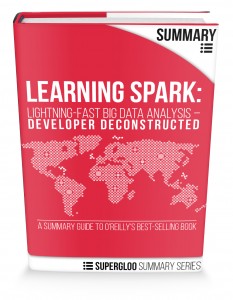 This summary guide is ideal for:
Engineers who need more in-depth understanding of Apache Spark quickly
Anyone wondering if Apache Spark warrants investment in time or resources
Anyone wondering how Apache Spark fits into the Hadoop Ecosystem such as HBase, Hive, HDFS, YARN, Mesos and others
Key Benefits:
Compact summary of the basic principles of Learning Spark: Lightning-Fast Big Data Analysis in a fast, convenient format
Succinct analysis written by a developer and manager with 20 years of experience in software development and data analysis
Saves your time from re-reading the 250+ page book to re-absorb, remember and categorize concepts. Everything has been organized for you.